The 30-Day Vegan Challenge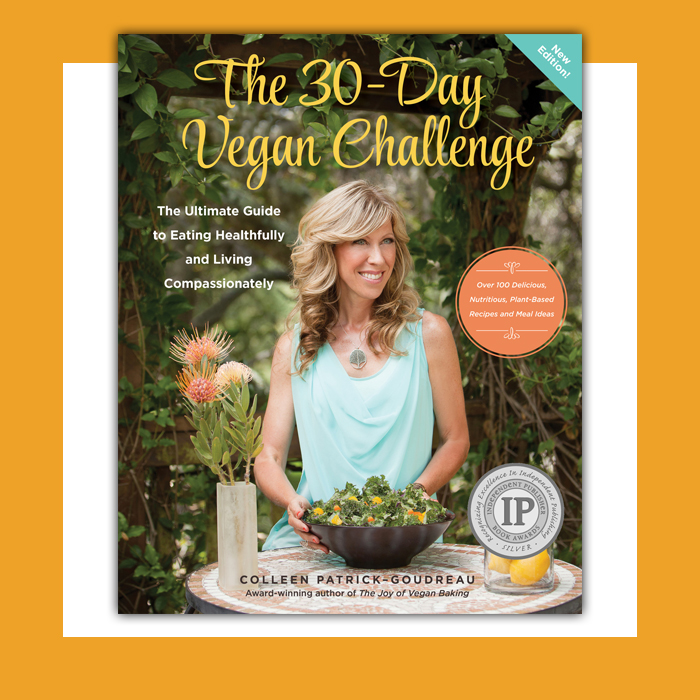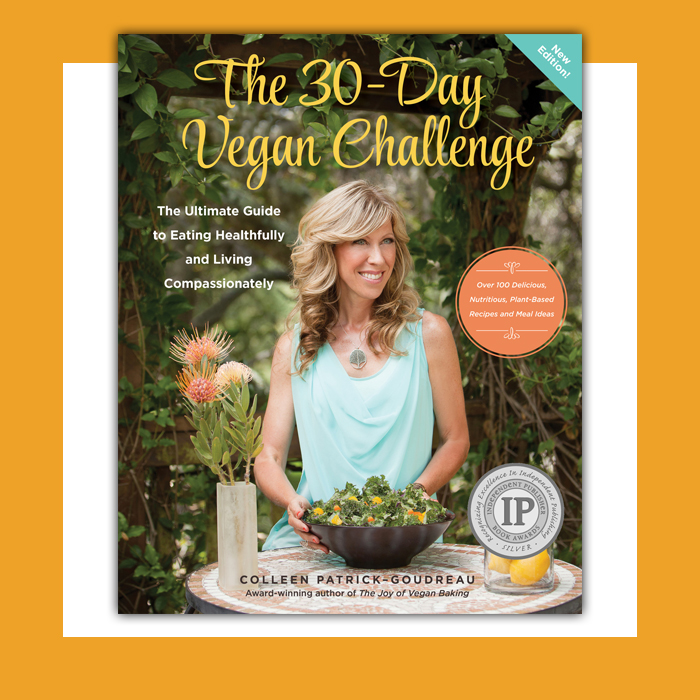 The 30-Day Vegan Challenge
Over 100 Delicious, Nutritious Plant-Based Recipes and Meal Ideas for Eating Healthfully and Compassionately -- The Ultimate Guide and Cookbook.
If you've ever asked: "Where would I get my protein?" "How would I bake without eggs?" "Is there really life after cheese?" This book is for you!
It's a one-stop, beautiful, comprehensive guide to making the vegan transition healthfully, confidently, and deliciously by bestselling author Colleen Patrick-Goudreau.
From understanding where to get protein, calcium, iron, and vitamin D to baking without eggs, eating out, and the easy preparation of plant-based foods for breakfast, lunch, dinner, dessert, and snacks, Patrick-Goudreau offers information, ideas, social strategies, recipes, and meal suggestions for the 30-day transition. In addition to showing us how to prepare everything from Creamy Leek Polenta to Mexican Chocolate Cake, Patrick-Goudreau provides practical advice so that we can break free of old habits and make changes that are effortless, long-lasting, and life-saving.
Whether you want to improve your overall health, shed a few pounds, demonstrate your compassion for animals, or help the environment, Colleen Patrick-Goudreau, dubbed "The Vegan Martha Stewart" by VegNews magazine, holds your hand every step of the way, giving you the tools, resources, and recipes you need to make the vegan transition - healthfully, joyfully, and deliciously. In this one-stop, comprehensive guide, Patrick-Goudreau:
debunks common nutrition myths and explains the best sources of such nutrients as calcium, protein, iron, and omega-3 fatty acids
helps you become a savvy shopper, eat healthfully affordably, restock your kitchen, read labels, and prepare nutrient-rich meals without feeling overwhelmed
offers practical strategies for eating out, traveling, hosting holiday gatherings, and attending social events
provides delicious, nutrient-rich, easy plant-based recipes
empowers you to experience the tangible and intangible benefits of living a healthy, compassionate life, including achieving healthful numbers for cholesterol, blood pressure, weight, and more.
Colleen is an award-winning author of six books, including including the bestselling The Joy of Vegan Baking, Color Me Vegan, and Vegan's Daily Companion. She is an acclaimed speaker and a multimedia host, beloved for her entertaining and unparalleled cooking shows and her inspiring podcast, Food for Thought, which was voted Favorite Podcast by VegNews magazine readers. Colleen is a regular contributor to National Public Radio and has appeared on The Food Network and PBS.